Can Intelligent Design Prove Evolution?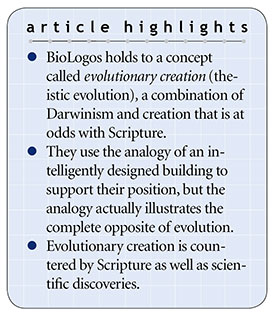 BioLogos is a theistic evolution-based organization that promotes the secular model of molecules-to-man evolution. The group's adherents not only champion the secular model of evolution, they also deny intelligent design in living systems. As a result of this position, they end up rejecting a literal interpretation of the creation account in Genesis.
The mission of BioLogos is to convince people to accept both naturalistic evolution and God in some sort of compromise. A key aspect of their internet outreach is a series of short videos pushing an evolutionary agenda. One video in particular titled Is God the Creator?  attempts to explain the central premise of theistic evolution.1 But despite the BioLogos position against intelligent design, the video uses an example of a complex human-designed and engineered system in an attempt to prove evolution.
Two key statements in the video need careful scrutiny:
"There are many ways that God creates."
"Did God create the building you're sitting in? We don't believe that God said, 'Let there be a building' and it popped into existence out of nothing."
Before we unpack the central logic problem with this analogy, we as Christians must first ask ourselves, "Are these statements biblically correct?" First, the Scriptures clearly reveal there was only one way God created, and this is a foundational aspect of our faith. In Genesis 1, we repeatedly see the phrase "then God said" as He uses the power of His Word to speak each fundamental feature of creation into existence over the course of six 24-hour days. Psalm 33 says:
By the word of the LORD the heavens were made, and all the host of them by the breath of His mouth.…For He spoke, and it was done; He commanded, and it stood fast. (Psalm 33:6, 9)
This creation methodology is validated in Hebrews 11:3, which states, "By faith we understand that the worlds were framed by the word of God." Even the many creative miracles of Jesus Christ the Creator documented in the gospels were performed by His spoken word.
Second, BioLogos attempts to use an analogy of how a man-made building comes together to support their belief in how God supposedly used evolution to create things. In unpacking this idea, it's important to understand that BioLogos promotes the traditional secular neo-Darwinian idea of evolution. This involves random processes of mutation and selection over eons of time that somehow resulted in the unimaginably complex all-or-nothing biological systems we study as scientists.2
So ask yourself this question: Did the building you are sitting in evolve by self-assembling itself bit by bit over eons of time through chance random processes? What about the highly engineered components it's made of such as thermostats, water heaters, garbage disposals, ceiling fans, etc.—did they also randomly self-assemble and evolve?
The reality is that intelligent humans designed and engineered the building, along with all its complex components. The BioLogos analogy actually illustrates the complete opposite of evolution. The obvious fact is that complex systems—whether they are buildings, cars, washing machines, or computers—must be engineered and assembled with a high level of intelligence all at once for them to work. A partially assembled car or computer is nonfunctional and worthless. The Bible follows this line of commonsense reasoning by describing how an omnipotent, omniscient Divine Engineer constructed our complex, interconnected world in a short period of time as described in the first chapter of Genesis.
The truth of God's Word needs to be trusted and upheld, not the man-made myth of evolution.
The Bible, not evolution, is in perfect agreement with the factual scientific reality of engineered biological systems that are so complex we are only beginning to understand them. The truth of God's Word needs to be trusted and upheld, not the man-made myth of evolution.
References
Stump, J. and A. DeSelm. Is God the Creator? BioLogos. Posted on biologos.org, accessed November 1, 2018.
Tomkins, J. P. and J. Bergman. 2017. Neutral Model, genetic drift and the Third Way – a synopsis of the self-inflicted demise of the evolutionary paradigm. Journal of Creation. 31: 94-102.
* Dr. Tomkins is Director of Life Sciences at the Institute for Creation Research and earned his Ph.D. in genetics from Clemson University.
Cite this article: Jeffrey P. Tomkins, Ph.D. 2019. Can Intelligent Design Prove Evolution?. Acts & Facts. 48 (2).