Velkommen til L.A.?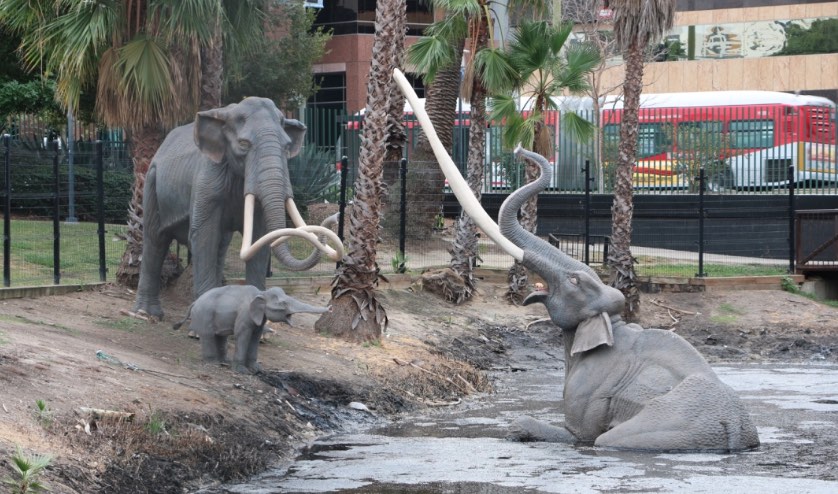 ENHVER SOM TVILER PÅ AT DET EN GANG VAR EN "LOST WORLD" UNDER ISTIDEN TRENGER BARE Å BESØKE LA BREA TAR PITS (TJÆREGROPER) I SENTRUM AV LOS ANGELES
Bibelen nevner ikke direkte en verden som var bebodd av T.rex eller en istid hvor pelskledde mammuter og sabelkatter vandret rundt omkring, så noen kristne tror at disse "tapte verdenee" må være oppdikting funnet opp av evolusjonister. Andre kristne ser hauger av utdødde skapninger og antar at de lvede lenge før Edens hage for 6,000 år siden, og konluderer med at 1 Mosebok 1-11 ikke er bokstavelig historisk.
Men der finnes en annen mening som omfavner både de nåværende, fysiske bevisene og den faktiske historien som er nedskrevet i Bibelen. Oppdagelsen av "tapte verdener" åpner opp et spennende vindu mot fortide som gir oss en bedre verdsettelse av Guds store plan for historien og vår plass i denne planen.
La oss bare se på ett prøvested, kjent som La Brea Tar Pits. Visste du at paleontologer fremdeles graver opp fossiler fra en av verdens mest spennende istidsteder i sentrum av Los Angeles?
Ingen visste om istiden en gang før det først ble foreslått i 1824, og ingen gjenkjente en bestemt gruppe av dyr kalt dinosaurer før 1841. Men oppdagelse av masive gravplasser som La Brea gir oss utrolig velbevarte stillbilder av et veldig anderledes kilma som ble bebodd av arter som er helt ulike dem vi ser i dag.
OPPDAGELSEN AV LA BREA, EN TIDSKAPSEL FRA EN TIDLIGERE VERDEN
Det er vanskelig å forestille seg, men for 110 år siden fantes det ingen viltvoksende "megaby av engler" (den er nå den nest største bye i USA). Der fantes bare e lite by omringet av landbruksområder fulle av kratt og småbusker. Hva startet den eksplosive veksten i sørlige Californias befolkning? Olje! Tidlig på 1900-tallet var landskapet fullt av oljetårn som tappet jorden for "sort gull" dypt nede under bakken istedenfor dagens himmelhøye skyskrapere.
Men på en av ranchene hadde råolje sivet opp til overflaten og samlet seg i dammer som dannet "tjæregroper". Disse ble først rapportert i 1769 av den spanske oppdageren Gaspar de Portolà. Sent på 1860-tallet og tidlig på 1870-tallet solgte rancheieren denne naturlige asfalten for å dekke veier og å impregnere hus mot vann og fuktighet.
Eieren, major Henry Hancock, hadde samlet bein og tenner på ranchen hans i flere år. Eksistensen av beinrester ble først offentliggjort i 1875, men alle antok at de var moderne dyr. Så, tidlig på 1900-tallet, innså en geolog at disse fossilene tilhørte utdødde dyreraser, og sporadisk oppsamling begynte. I 1913 ga Hancocks sønn utgravingsrettigheter til National History Museum i Los Angeles i to år, og de samlet inn rundt 750,000 eksemplarer fra 96 utgravingssteder.
Senere ga familien 23 mål me tjæregroper til fylket, noe som ga systematisk, vitenskapelig undersøkelse siden da. Det offentlige navnet på denne forskningsparken, "La Brea Tar Pits", er faktisk dobbeltbetegnende ettersom la brea er spansk for "tjæren". Så det blir kalt "tjære tjære groper". Disse gropene har bevart en bemerkelsesverdig tidskapsel som viser hva dette området så ut som i post-flommens istid.
"TJÆREGROPER" DANNET ETTER FLOMMEN
Når ble "tjæregropene" dannet? Det geologiske beviset indikerer at gropene ikke ble dannet før lenge etter den globale flommen, så skapningene må ha levd etter flommen også.
Hvordan vet vi det? Flere hendelser må ha funnet sted i sekvenser. Omtrent 300 meter under parken ligger det som er kjent som Salt Lake Oil Field. Dette er en dam med olje som oppbevares i sandete lag over Los Angeles bassenget. Men oljen kom ikke derfra. Marine alger begravet i leirstein dypere nede må først ha produsert oljen. Så må oljen ha migrert oppover slik at den kunne begraves i sandlaget. Jordbevegelser har så skubbet sandlagene oppover i en bue, noe som har fått samlet oljen i denne dammen.
Så har den bevegende jorden også ført til at en feil har blitt dannet ved toppe av buen, kjent som Sixth Street Fault. (Ja, La Brea er lokalisert på Sixth Street.) Etterpå, en gang i løpet av den hurtige post-flom istiden (pleistocen), har brevann avkastet omtrent 61 meter med alluvium (slam og leire) over hele området, noe som har forseglet alle de underliggende lagene.
Men vi har enda ikke kommet til tjæregropene enda! Jordskjelv, som har gjort sørlige California berømt, har til slutt åpnet sprekker i alluviumet, noe som har gjort at råolje kan lekke opp til overflaten, hvor den har samlet seg i dammer. Metanen og de andre gassene boblet av. Den lettere petroleumen fordampet eller ble biologisk nedbrutt, noe som la igjen en tyngre, asfaltbasert rest. Strent tatt er dette ikke tjære, som er et menneskelaget produkt, men naturlig asfalt. Den er veldig klebete. Denne klebrige dødsfellen oppstod ganske nylig, etter en lang rekke geologiske hendelser sent i de hurtige post-flom istiden (etter at isens alluvium ble avkastet!).
HVA FAGET FOSSILENE?
Slike groper, med sine vannlignende overflater, ser uskyldige ut for dyrene. Blader og andre planterester blåste inni og dekket overflatene deres, mens insekter svevde over dem. Men stakkars de dyrene som vandret inn i tjæren! Når en planteeter eller insekteter ble fanget i tjæren, ville kjøtteterne oppdage et "gratis måltid", men bli fanget i den klebrige tjæren selv. Til og med fuglene ble raskt offer for tjæren.
Når et offer først ble oppslukt, fungerte tjæren som et konserveringsmiddel. Naturlig forråtnelse og åtseldyr spiste vekk kjøttet, noe som la igjen hodeskaller, tenner og bein. Men den klebrige kjemien bevarte beina så bra at de forble praktisk talt uforandret fra sin opprinnelige form, med opp til 80% av det originale beinfiberet (kollagen) fremdeles intakt. Tjæren kom seg inn over alt, til og med de fjerne bihulene i skallene og marghulene i beina. Bortsett fra den svarte eller brune fargen, så liknet beina helt ferske bein som vi ser i dag. Det er ikke rart at de opprinnelige rancharbeiderne trodde beina kom fra moderne prærieulver, ulver og husdyr!
Med hjelp fra denne bevarte "verdenen" kan vitenskapsmenn rekonstruere hvordan livet var sent i istiden. Fossile tenner inneholder bevis for slitasje som avslører detaljer om den varierte dietten deres. Noen av tennene inneholdt til og med fossiliserte plantefragmenter som dokumeterer hva dyret nettopp hadde spist før det døde. Bein fra lemmer dukket opp sammen med tilstøtende bein slik at vi kan se hvordan de passet sammen i live, og detaljene er så godt bevarte at det er mulig å skjelne hvor nervene og blodlegemene ble transportert, i tillegg til steder hvor sener og  ligamenter var koblet sammen. Syke, skadede og helede bein og tenner forteller oss om kampene deres i en "fremmed" verden, som faktisk ikke var så lenge side.
IMPONERENDE VARIASJON AV UTDØDDE SKAPNINGER
Så langt ha man funnet rundt 600 dyrearter i gropene, inkludert 60 pattedyr arter. Selv en rask gjennomlesing av listen viser en sammensetning som er veldig annerledes enn hva du finner i dag. Det inkluderer skapninger som ikke lengre bor i denne hemisfæren, inkludert to elefantarter (mammuter og mastodonter), kameler og vestlige hester (som ble utryddet på samme tid som conquistadorene kom med deres europeiske hester i det 16. århundre). Andre utdødde dyr er nært assosiert med istiden, slik som sabeltanntigre, "direulver", "bakke-dovendyr" og de kondor liknende teratornene som er enda større enn modere kondorer.
Historiske nedskrivninger rapporterer at noen arter, inkludert alle de identifiserte slangeartene (minst 16), har levd i Los Angeles området i fortiden, selv om de ikke kan observeres der i dag. Fossiliserte amfibier, inkludert padder, frosker, og en salamander art, finnes fremdeles i området i dag.
Mesteparten av de fossiliserte landsneglene finnes fremdeles i California i dag, i høyder mellom 1200 og 3000 meter, i kjøligere og fuktigere klimaer. Hva kan vi lære av dette? Det er helt klart at disse skapningene ikke levde for lege siden, men at klimaet i Los Angeles på den tiden var mye kjøligere og våtere.
Insektfossiler forteller oss en annen historie. Flesteparten av de insektfossilene ble funnet i hjernehulrom fra større virveldyrskaller. Dette antyder at skrottene råtnet langsomt over flere måneder, noe som indikerer at det ikke skjedde under den katastrofale ettårs flommen på Noahs tid. Karakteristisk nok dukker det opp spyfluer og kjøttfluer snart etter at dyret har dødd, fulgt av forskjellige biller, som vi her finner i skallene.
VAR DETTE FØR MENNESKENE ANKOM?
Ingen av de dype lagene med fossiler inneholder menneskerester. Men nær overflaten har man funnet deler av en menneskeskalle og et tilhørende skjelett, i 1914, 2-3 meter nede. Beina var funnet å tilhøre et individ. Så det er klart at mennesker hadde spredd seg fra Babel til denne delen av Den Nye Verden rundt slutten av istiden.
Strukturelle kjennetegn på skallen er ikke ulik dem som vi finner i de opprinnelige menneskene som bodde på de nærliggende Chanel Islands og kystområdene til det sørlige Califormia før de europeiske oppdagerne ankom.
Fra rettsmedisinske undersøkelser har vitenskapsmenn konkludert at disse levningene tilhørte en kvinne som var omtrent 1,4 meter høy. Der er litt uenighet om aldrene ved hennes død. En studie bestemt at hun var mellom 25 og 30 år gammel, mens en senere studie estimert at hun var bare 17-18 år gammel. Hva kan vi lære om verdenen hennes?
Noen tidligere forskere konkluderte med at hun ble fanget der ved et uhell. Senere har andre forskere lagt merke til at kraniet hennes hadde traumatiske lesjoner som hadde blitt forårsaket av slag fra en slipestein som var begravet i nærheten. Dette viser at hun var L.A.s første dokumenterte drapsoffer. En annen undersøkelse var uenig med dette, og hevdet at slipesteinen så ut til å være seremonielt uleselig. De påpekte også at skjell- og steingjenstander og skallen til en liten tamhund indikerte en "vanlig" begravelse. Slike ulike fortolkninger påminner oss om ikke å være for dogmatisk om fortiden basert på så få ufullstendige spor.
DATERING AV FOSSIL STEDET
Forskere har også funnet spredte, menneskelige gjenstander, mest merkbare var tre brukne piler og det sløve firskaftet av en pil laget av tre. Denne typen pil var en type kastepil eller spyd. Dette betyr at pilkastende mennesker tidligere har bodd i det sørlige California, trolig på samme tid som de nå utdødde dyreartene.
Fossile bein som er funnet med kuttemerker indikerer at de tidligste menneskene som bodde der brukte de pilene til å jakte på og drepe noen av de større dyrene. Disse funnene er viktige fordi radiokarbondatering av treet hjelper oss å kryssjekke de radiometriske datoene for menneskelevningene. Husk at de evolusjonære antagelsene bak alle radiometriske metoder resulterer i veldig forhøyede datoer i den uobserverte fortiden som er usammenfallende med øyenvitnebeskrivelser i den bibelske versjonen av jordens historie.
Skjelettet til "La Brea Kvinnen" ble radiokarbondatert til 9,000 år +/- 80 år før nåtiden, mens en av de brukne trepilene ble datert til 4,450 år. Kollagen fra forskjellige dyrebein ble daterte til fra 11,000 år gamle til 36,000 år gamle. Sammenlikning av prøver av treet i samme kjæregrop ga en alder som varierte med 38,000 år, mens fossiliert tre i de øvre lagene ga en variasjon på 13,500 år.
Hva betyr alt dette? Dette er på ingen måte de korrekte datoene, fordi radiokarbonaldre over omtrent år 1000 f. Kr. matcher ikke historisk bekreftede datoer, og de motsider den bibelske tidslinjen. Vider daterer radiokarbon pre-flom vegetasjon  (i kull) til 48,500 år, ikke 300 millioner år, slik som evolusjonistene hevder. De absolutte datoene deres må være feilaktige.
Likevel har relative datoer en verdi. Fossilene lengre nede under bakken gir konsekvent eldre radiokarbon datoer enn den som er nærmere overflaten. Disse datoene stemmer med slutten av den nylige istiden, og til og med evolusjonister kan være enige om dette. Det er åpenbart at disse levningene er meget nye fordi de sitter på den nåværende landoverflaten, og tjæren oser fremdeles ut der.
Fra et bibelsk perspektiv har sedimentene i Los Angeles bassenget trolig akkumulert snart etter flomkatastrofen var over for 4,350 år siden. Dette betyr også at oljen ble dannet raskt etter disse sedimentene ble avkastet.
Denne sekvensen passer bra med en synet på en ung jord som han har i skapelses-modellen for hva som forårsaket istiden. Vulkansk aktivitet varmet sjøvannet under flommen, og vulkansk støv i atmosfæren setter opp de bestemte forholdene for en syklus med sterk nedbør og nedkjølende temperaturer. Snø ble hurtig akkumulert i store høyder og breddegrader som produserte isflak og isbreer.
Da sjøvannet ble stablet som is på kontinentet, falt vann nivået i sjøen, og avslørte en landbro mellom Asia (Sibir) og Nord Amerika (Alaska). Dyrene som migrerte fra Noahs ark kunne kysse over fra Asia til Nord Amerika. Noen ankom til slutt til Los Angeles området. På grunn av spredningen fra Babel, fulgte mennesker samme veien, mens de søkte etter passende plasser å slå seg ned.
Ettersom forskjellige dyreslagene migrerte fra arken, avlet de forskjellige variasjoner (som vi nå kaller arter). Der variasjonen var tilpasset forskjellige og forandrende miljøer, slo de seg ned.. Så variasjonene som til slutt ankom Los Angeles området så annerledes ut enn deres forfedre som hadde gått av arken. Denne variasjonen innen Guds skaperverk jar fortsatt til i dag, så mange av de utryddede artene som ble fossilisert i tjæregropene ser annerledes ut en dem som bor i det området i dag. Det er e del av Guds plan at dyrene skal fylle jorden og overlive de pågående klimaforandringene.
HVORDAN VAR MILJØET?
Som en hovedregel gir plantene oss en strålende indikasjon på tidligere klimaer. Hvilke plantetyper som vokser i en bestemt region reflekterer både temperatur og fuktighet.
For tusenvis av år siden, da disse fossilene dannet seg i tjæregropene, hadde denne regionen minst fire miljøtyper som er annerledes enn det vi ser i dag. Noen av plantene, slik som den kystvoksende Redwood trærne og dogwood trærne, finnes å bare lengre ord. Andre typer planter, slik som sycamore og bringebær, finner man nå lags fjellbekker. Det fuktige klimaet og skoghabitatet i Los Angeles området på slutten av istiden støttet flokker med store dyr, slik som mammuter, bison, gigantiske dovendyr og hester.
Så tjæregropene gir oss spor til å rekonstruere den "tapte verden" til et helt biologisk samfunn, med kjøligere og fuktigere vær, noe som hinter oss om at interaksjonen av et blomstrende vev av plater og dyr.
ÅPNING AV TIDSKAPSELEN
Det er fascinerende at så mange av artene som er begravet i La Brea Tar Pits er forskjellige fra dem vi finner i Los Angeles regionen i dag. Det er helt klart at de levde under forskjellige klimaforhold, og beviset indikerer at dette klimaet dominerte på slutten av post-flom tidens istid, for omtrent 4,000 år siden.
i tillegg til denne intrige, hadde disse skapningene spesialiserte egenskaper for kulde, som ga den fordeler i klimaet deres og fikk dem til å se andreledes ut en de andre artene som stammet fra de originale familiene som forlot Noahs ark og spredte seg rundt på jorden. Vår Skaper visste hvilke forhold de ville møte i verden etter flomme, ettersom jorden kom seg fra omveltningen under flommen. Så Ham sørget for at de hadde et DNA som var nødvendig for å formere seg i forskjellige retninger slik at de kunne hurtig tilpasse seg de forandrende forholdene og adlyde Hans befalinger om å fylle opp jorden igjen.
For en leksjon om Guds plan for oss i dag! "Herre, vår herre, hvor herlig ditt navn er over hele jorden!" (Salme 8:10). Den samme Skaperen som sørget for alle de skapningene fra arken mens de diversifiserte seg og spredde seg over hele jorden i verden etter syndefloden – og som kledde liljene på marken – er vår himmelske Far som lover å ta vare på oss.
---