"Ta to valium og ring meg i morgen"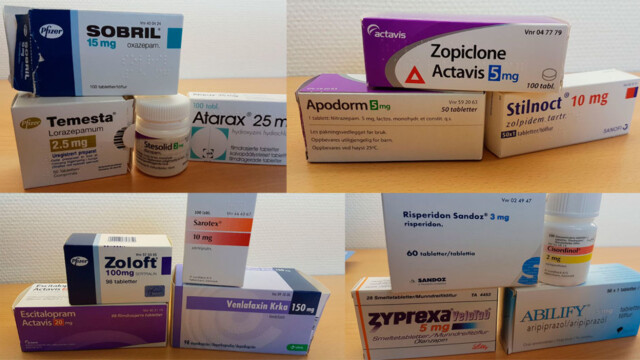 Jeg har ingen personlig erfaring med å bruke valium. For flere år siden var det en som sa "Jeg ønsket å ta livet av meg, men da jeg hadde tatt to valium følte jeg meg mye bedre…" Det var selvsagt en spøk, men i disse dager virker ikke vitsen fullt så morsom. Det er mange som bruker valium, noen til behandling og noen til rus. Som ansatt på Sandviken psykiatriske sykehus har jeg sett flere resultater av valium medisinering. Noen kan gå på en høy dose uten å ha noen synlig effekt av legemiddelet. Andre kan få en lav dose og fremstå sløv og dopet. Men det er mange pasienter som faktisk får god hjelp med valium. Det får den indre uroen til å roe seg. Angsten blir i noen tilfeller mindre, og de kan ofte fungere bedre.
Et av problemene med valium er at det er vaneskapende. Det har en økende toleransegrense, noe som betyr at dersom du får en lav dose over tid, så må du etter hvert øke dosen for å få samme effekten av legemiddelet. Dette gjør at mange er imot valium og andre preparater som er vanedannende. Faktisk er det et økende antall mennesker som er imot alle typer antipsykotoka og antidepressiva. Det hevdes at disse medikamentene bare tar vekk symptomene uten å gjøre noe med årsaken til "sykdommen".
Er det så intet behov for medisinering av psykiatriske pasienter? Spørsmålet kan snues opp ned dersom man spør om pasientene kan komme seg uten bruk av tunge eller sløvende legemidler. Det vil her komme an på hvor alvorlig en depresjon er, om pasienten er psykotisk eller har alvorlige vrangforestillinger. Med en lett eller moderat depresjon kan psykoterapi være nok.
Selv om jeg ikke har erfart noen innleggelse på Sandviken eller et DPS, så har jeg erfart depresjon. Jeg fikk foreskrevet Escitalopram fra fastlegen, og dette hjalp etter noen uker (noen legemidler tar flere uker før de virker). Da jeg autoseponerte tablettene (sluttet å ta dem) kom symptomene tilbake. Dette var et bevis på at legemiddelet fungerte for meg. Stadig tilbakevendende lettere depresjoner var imidlertid et stort problem. Det var ikke før jeg fikk psykoterapi ved et DPS at jeg ble kvitt depresjonen helt. I dag har jeg sluttet med "lykkepillene" og fungerer fint. Jeg er overbevist om at psykologhjelpen var nødvendig for meg til å legge det hele bak meg.
Men hva med medisineringen? Var den nødvendig? Er den nødvendig på psykiatrisk sykehus? Av og til er det nødvendig med medikamentell behandling av symptomene før en kan nå inn til pasienten og sammen med ham eller henne jobbe mot en bedre framtid – uten medisiner dersom det er mulig? Tommelregelen må være at en gir pasientene så lite medisiner som mulig. Medikamenter skal ikke misbrukes. Det er imidlertid viktig å se hver pasient som et selvstendig individ som krever individuell behandling.
---