Guddommelig design benekter evolusjon
Dyr verden over viser fantastiske typer design som trosser evolusjonære forventninger mens de vitner om Skaperens visdom. Jeg har lyst til å dele to eksempler som har blitt rapportert i vitenskapelige tidsskrifter nylig. Det første beskriver en nylig oppdaget hoppe mekanisme i et lite insekt som har inspirert ideer for ett nytt robot-bein. Det andre trosser den evolusjonære forventningen om hvordan gener arves og hvordan foster-instruksjoner forårsaker forskjeller mellom hoder og bein.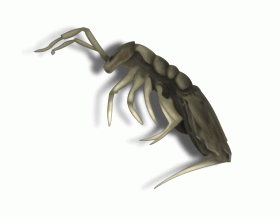 SPRETTE-INSEKT FORBAUSER EKSPERTENES HJERNER
En bemerkelsesverdig ny katapult-mekanisme har blitt oppdaget i bakbeina til flere typer bladbiller (Blepharida sp., Longitarsus sp., og Psylliodes sp.), og forbløffet forskerne med sin stil og eleganse. Dette er forskjellig fra det forbløffende tann-utstyret som er blitt oppdaget i blad-hoppere som tidligere har blitt omtalt av kristne vitenskapelige tidsskrifter. Disse "loppe-billene" viser en formidabel evne til å hoppe som overgår de vanlige lusene. En rapport i ZooKeys beskriver dette som "… en ekstremt effektiv metode å unngå potensielle rovdyr."
Hoppet til en av disse "bioniske billene", Longitarsus anchusae, ble målt til 289 ganger kroppslengden deres. Dette ville tilsvare at en 180 cm høy lengdehopp-atlet ville hoppe over en halv kilometer. En annen art, Psylliodes affinis, opplever en G-kraft opp til 266g under "utskytningen". Når vi tar i betraktning at astronautene normalt opplever en maksimum av 3g i en rakettoppskytning, og at jagerflyvere ikke kan motstå mer enn 9g i noen få sekunder, så virker disse flaue billene ganske så utrolige. I tillegg kan disse sprettende insektene utføre over 30 hopp uten å bli trette. De vitenskapelige forskerne forklarer ikke billenes evner til å leve livet i det det raskeste kjørefeltet, bortsett fra å tilby evolusjonære klisjeer som, for eksempel, å hevde at hoppe-evnen deres er "en av nøkkeltilpasningene som har gjort dem til en slik variert gruppe skapninger."
Forskerne ønsket å oppdage hemmeligheten til billenes sprett og brukte flere lure teknikker til å få det til. Mekanismen som er ansvarlig viste seg å være en sofistikert fjær i billenes bakbein. Men istedenfor å kreditere Skaperen, sa de: "Luse-billene har utviklet en enorm uavhengig fjær for å hjelpe oppbevaringen av elastisk potensiell energi." Men hvordan unngikk disse billene å bli spist før de utviklet denne evnen til å hoppe? Døde biller gir ikke genene sine videre til neste generasjon.
Fjæren er laget av tre bevegende deler som er festet til muskler, ett apparat som synes å være "ureduserbare komplekse mekanismer": alle komponentene må være tilstede for at systemet skal fungere. Det avhenger av perfekt balanse på de sammenlåsende delene og deres elastiske egenskaper. Hvordan dette utviklet seg steg for steg er umulig å forstå, likevel trenger det å være komplett for å gi billen muligheten til å overleve.
Vitenskapsmennene fant hoppekraften og akselerasjonen av disse billene spesielt forbausende, og av alle de kjente hoppende insektene, vinner disse lett gullmedalje, med sølv og bronse til vanlige lopper og bladhoppere. Vitenskapsmenn har ofte hentet inspirasjon fra naturens verden og etterliknet det de ser for å finne opp nye ingeniør-løsninger. I dette tilfellet ble forskerne inspirert av mekanismen i billenes bein til å foreslå et robot-lem. Ironisk nok nevnte rapporten deres ordet "design" ett dusin ganger — du kunne ikke unngå det! Selvsagt peker slik ingeniør-vidunder mot kreativ glans, noe som er fjernt fra en blind evolusjonær prosess.
HOMOLOGI ER "HODESTUPS"
"Homologi" refererer til likhet i forskjellige skapningers kroppsdeler, påstått å være på grunn av deres evolusjonære avstamning fra en felles stamfar. Darwins teori forutsier at liknende planer, strukturer og gener blir bevart og gitt videre til nye arter. Nye beviser har imidlertid snudd homologien hodestups. Hvordan kan den første cellen til et utviklende foster bestemme hvilken ende som en hvor? Svaret er at genetisk informasjon gir instrukser for orientering av organismene (høyre eller venstre, foran eller bak, oppe eller nede) — og dette blir videreført fra hunnens egg. Det har nå blitt oppdaget at genene som brukes for å orientere fosteret ikke blir konservert over forskjellige arter, men er forskjellige til og med innen "nært beslektede" arter!
En nylig studie på fruktfluer, av Universitetet i Chicago, viser hvordan gener med grunnleggende roller i den tidlige fosterutviklingen er i stand til å bli raskt kappet opp og forandret uten å forandre fluns kropps-plan og funksjoner. I deres nylig publiserte rapport i eLife innrømmer de følgende:
"Med veldig få unntak har dyrene 'hode' og 'hale' ender som utvikles når der foster. Genene som er involvert i å spesifisere disse endene varierer mellom artene og til og med nært beslektede dyr kan bruke forskjellige gener for de samme rollene… fluer utviklet en uventet forskjell med tidligere determinanter (instruksjoner og front-enden)" (min uthevelse).
Hvorfor uventet? Fordi funnene ikke passer med evolusjonære forventninger! Evolusjonen kunne ikke ha spådd resultatene som vitenskapsmennene oppdaget, heller det motsatte. Noe så fundamentalt som organismenes orientasjon burde ha blitt bevart eller arvet. Denne rapporten kommer også med enda et fatalt slag mot Darwinsk evolusjon, og snur teorien om homologi på hodet.
Evolusjonær teori er av natur plastisk — men en ide som brukes for å forklare alt ender opp med å ikke forklare noe som helst. Forskningsteamets arbeid, hvor fascinerende det enn ser ut, peker virkelig mot guddommelig design: det krever utenkelig intelligens å programmere en organisme til å bli hakket og forandret og brukt på forskjellige områder for forskjellige formål og i forskjellige arter. Det formelig skriker ut om en Designer, istedenfor en felles stamfar.
OPPSUMMERING AV VITENSKAPEN
Vi har sett på to guddommelige designer som benekter evolusjon: den utrolige spretten av en bionisk bille, og en genetisk instruksjon for orientering av et foster. De forskende vitenskapsmennene  har ganske riktig applaudert de fantastiske designene de har avdekket, men dessverre applauderer de ikke Skaperen. Gud fortjener visselig æren. Dess mer vitenskapsmenn dykker dypere inn i skapningenes anatomi, psykologi og oppførsel, dess mer oppdager de ting som benekter Darwinsk evolusjon (uguidede, tilfeldige, steg-for-mini-steg, trinnvise forandringer). I tillegg avdekker disse samme vitenskapsmennene uvitende fantastiske beviser for vår Guds superlative design!
Om bare menneskene hadde (åndelige) øyne til å se ting som de virkelig er. Vi ber om at folk vil gjenkjenne Guds skaperverk og gi Ham æren. Der finnes en Skaper som har uttrykt Sin ære i skaperverket Sitt, og Skriften sier korrekt: "Hans usynlige vesen, både hans evige kraft og hans guddommelighet, har de fra verdens skapelse av kunnet se og erkjenne av hans gjerninger. Derfor har de ingen unnskyldning" (Romerne 1:20).
Mens folk fortsetter å bli matet med ideen om at den brilliante designen i den naturlige verden resulterer fra ustyrte naturlige prosesser, så vil denne blogge fortsette å ære Gud og gi Ham æren for skaperverket.
---