Saturn – Juvelen i Skaperens utstillingsvindu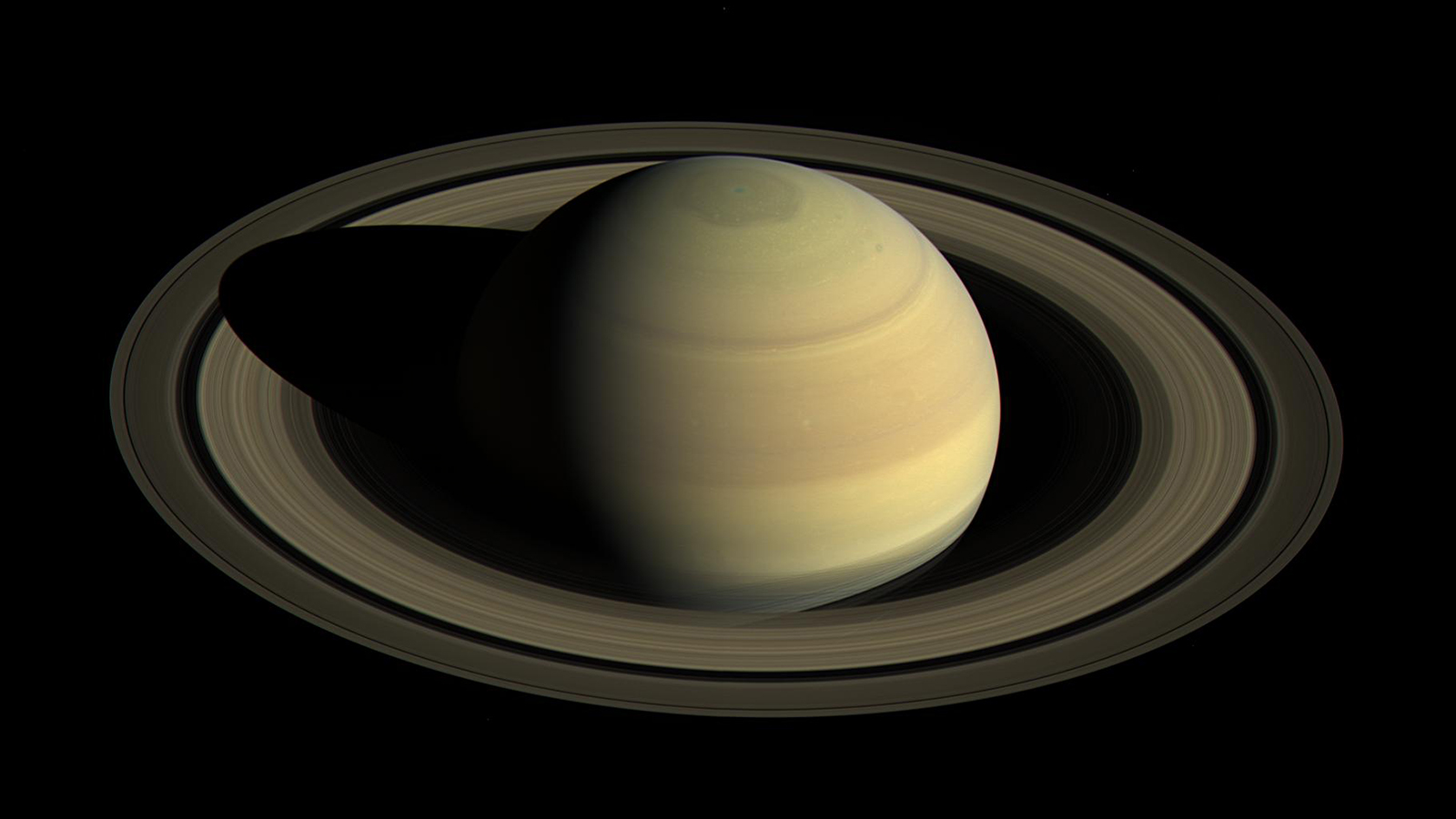 ROMSONDEN CASSINIS MEST FANTASTISKE OPPDAGELSE LAGDE IKKE OVERSKRIFTER: DET KLARE VITNESBYRDET OM SATURNS UNGE ALDER OG DET FAKTUM AT DET HADDE EN SKAPER.
Brann!
Den 15 september 2017 braste Cassini romfartlyet inn i Saturns øvre atmosfære og brant opp. Hva skjedde? Dårlig programmering av NASA? Nei, det var planlagt at den skulle krasje.
Det $3.26 milliarder Cassini-Huygens oppdraget som ble skutt opp i 1997 var en strålende suksess. Det forbedret vår forståelse av Saturn, dens måner og dens eksotiske ringer. Cassini hadde også med seg Huygens modulen, som landet på Titan, den største at Saturns måner, den 14 januar 2005. Dette markerte den første landingen på en måne utenom vår egen måne, og Huygens sendte tilbake en mengde verdifulle date .
Nær slutten av oppdraget fullførte Cassini en mengde av risikofulle passeringer gjennom gapene mellom Saturn og dens indre ringer. Helt til slutt, mens romfartøyet begynte å gå tom for brennstoff, sendte ingeniørene den inn i Saturns atmosfære. Til og med i dens siste åndedrag fanget Cassini mer nyhetsverdige detaljer som overrasket de sekulære vitenskapsmennene.
Den aller største overraskelsen lagde imidlertid ingen overskrifter: oppdraget ga et klart vitnesbyrd om en ung alder  til de fantastiske ringene og det faktum at planeten med ringene hadde en Skaper.
En unik planet
Helt siden Galileo oppdaget Saturns ringer (de liknet "ører" for ham), har planeten fascinert menneskene. Når Skaperen ferdigstilte Saturn på skapelsesukens fjerde dag må Han ha smilt med tilfredshet.
Langt borte fra solen er Saturn vidt forskjellig fra jorden. Som en gigant-planet nesten bare bestående av gass og væske er Saturn over 750 ganger større enn jorden. Mens jorden har større tettheten enn en hvilken som helst planet i vårt solsystem. Saturn har den laveste tettheten. Jorden er solid slik som de andre indre planetene (Merkur, Venus og Mars), mens Saturn er en gass-planet slik som de andre ytre planetene (Jupiter, Neptun og Uranus), som for det meste består av hydrogen og helium. Faktum er at tettheten er så lav at dersom vi kunne kaste den inn i et gigantisk badekar, så ville den flyte!
For mange av oss er det rart å tenke at en planet ikke er fast. Men spørsmålet som forbauser astronomene er hvorfor vårt solsystem har begge type planeter. Det er vanskelig å forklare dersom begge utviklet seg fra samme  spinnende disk av gass og støv. Ville ikke den samme prosessen utvikle like planeter?
Sekulære astronomer finner vanligvis en type planeter rundt de andre stjernene. De tilbyr forklaringer for den uvanlige sammensetningen av planeter i solsystemet vårt, men forklaringene har huller. Et ønske om å fylle disse hullene hjelper å forklare Cassini og fortsatte oppdrag for å sondere planetene.
Ringenes Herre
En av de mest fascinerende og overraskende detaljene som Gud ga Saturn er dens lyse ringer, noe som har gitt den kallenavnet Solsystemets Juvel. Selv om andre gass-planeter har ringer, så er ingen så spektakulære som Saturns, og dette har fått astronomer til å tenke dypere om hvordan en planet kunne få disse vakre, mystiske (og uforklarte) egenskapene.
I et lite teleskop ser det ut som om Saturn bare har en tykk ring. Men et bedre teleskop har vist tusenvis av ringer, hekket tett sammen. Og istedenfor at ringene er faste består ringene av milliarder av partikler av støv, stein og is, alt sammen i bane rundt planeten. Noen er så små som et sandkorn; andre er så store som en bygning. Ringene går i bane med forskjellig hastighet, likevel er de så stabile og unike at hver ring og gapet mellom ringene har sitt eget navn.
Den relative tynnheten er forbløffende. Dersom Saturns ringer var like vide som San Francisco, ville de ha vært like tynne som papir. Folk på jorden ser ringene bare fordi Gud ga planeten en vippet akse. Hvilke prosesser kunne muligens produsere – og opprettholde – disse delikate egenskapene?
"Saturns ringer er mer enn bare et belte av partikler som går i bane rundt planeten," sier Spike Psarris, en tidligere ingeniør i NASAs romprogram som har holdt øye med Cassini oppdraget som en kreasjonist. "Der er eker i ringene, som hjul. Noen ringer er til og med flettet. Ingen forventet disse egenskapene i ringene. Det er som om noen skapte dem for å glede og fascinere oss."
Evolusjonister spekulerte en gang om ringene hadde utviklet seg for milliarder av år siden når en asteroide kolliderte i planeten eller en av månene dens, noe som forårsaket en sirkel av rester. Men Cassini har avdekket hvor dynamisk ringene er.
"De observerte forandringene i Saturns ringer under Cassini oppdraget viste at Saturns ringer er mye yngre enn de antatte 4,5 milliarder årene som de fleste planet  vitenskapsmennene tror," observerer Danny Faulkner, an annen kreasjonistisk astronom (ved Answers in Genesis) som har fulgt Cassini.
"For å rette opp dette foreslår man nå at Saturns ringer resulterte fra den nylige tidevannsforstyrrelsen fra en måne. Med andre ord har Saturns sterke tidevannskrefter revet i stykker en av månene dens." Men siden alle de fire ytre planetene har ringer, er det høyst usannsynlig at dette hendte nylig til dem alle.
I løpet av dens siste reise gjennom ringene målte Cassini deres gravitasjonsdrag og bekreftet at de var for lett til å ha vart i milliarder av år. Videre har målinger av støv fra det ytre solsystemet vist at is-ringene er for rene til å ha eksistert i milliarder av år.
"Der er ikke mye vi kan gjøre med det. Den må være ung," konkluderte Sacha Kempf, en rom fysiker, i en rapport i Science. "Jeg er tilbake til start," tilstår planet vitenskapsmann Larry Esposito, som anerkjenner at eksistensen av Saturns ringer virker "heldige".
En kvikk ung planet
Cassini samlet også data om Saturns kjerne og gravitasjonskrefter for å løse det vedvarende spørsmål: hvordan kunne den ha slik kraftig magnetfelt, siden magnetfelt mister energi over tid? Evolusjonistene kom med hypoteser om ar Saturns magnetfelt er vedlikeholdt av noe på innsiden kalt en dynamo (en slags kjemisk ubalanse i et batteri).
Men retningen av det magnetiske feltet viste at Saturn ikke har en dynamo. Dette betyr at planeten ikke kan være milliarder av år gammel. Faktum er at alle de yrte planetene er mer dynamisk eller gir fra seg mer varme enn det som er mulig i et eldgammelt, nedslitt solsystem.
En sjø av uforklarlighet – Fantastisk måner
Jorden har bare en måne. Saturn har minst 62, inkludert flere dusin småmåner. Den forbausende variasjonen benekter en enkel forklaring, unntatt arbeidet til en Skaper som elsker skjønnhet og variasjon.
To danser
For eksempel observerte Cassini hvordan to av disse småmånene, Epimetus og Janus, "danser". Banene deres er så nær Saturn at i årevis ha planet forskerne trodd at de bare var en måne. Hvert fjerde år tar den ene igjen den andre, så bytter de plass. Den ene får momentum og skyter lengre ut fra Saturn, mens den andre mister samme mengde momentum og faller innover i en celestial ballett.
Er der noe rim eller grunn for disse dansende månene? Nei – ikke uten kanskje å minne oss om vår Skapers kreativitet!
Jordliknende Titan
Jordboere er spesielt interessert i å studere Saturns største måne, Titan, fordi dens atmosfære og overflate er så lik jordens. Større enn jordens måne er den den eneste månen vi vet om som har atmosfære. Evolusjonære astronomer håpet på en bedre forståelse om hvordan atmosfæren har utviklet seg.
Titans atmosfære er mer lik jordens enn noe annet himmellegeme i solsystemet, likevel er der store forskjeller. Titan mangler fri oksygen (ubundet til andre elementer), mens jordens atmosfære er 21% oksygen. Og Titans overflatetemperatur er litt kaldere, -290 grader Fahrenheit.
Huygens modulen viste at Titans atmosfære er mye mer dynamisk enn de forventet ved slike lave temperaturer. Metan i væskeform (naturlig gass) og andre organiske materialer regner ned over overflaten slik som vann på jorden. I tillegg dekker steiner og småstein. antakelig hovedsakelig laget av vann-is, overflaten.
Enda større hjelp enn Huygens sendinger etter landing, som varte i 90 minutter, var Cassini sonden. Dens infrarøde instrumenter og radar skar gjennom Titans ugjennomsiktige atmosfære og sendte tilbake en strøm av hjelpsom informasjon om dens dynamiske verden. "For eksempel fant den innsjøer av metan i væskeform på overflaten," forklarer Faulkner. "Der dukket også opp vulkanske egenskaper. Siden den er så kald er det nesten sikkert at det "smeltede materialet" er hardere enn stein, som på joden."
Evolusjonistene så imidlertid ikke etter innsjøer. De forventet hele hav fulle av metan i væskeform. Hvorfor det? Vel, her blir det litt mer komplisert. Astronomene hadde lenge forventet at Titan hadde metan på overflaten (og Cassini bekreftet dette). Utfordringen er at sollyset oppløser metan til etan og andre kjemikalier. Så etter bare 10 millioner år skulle Titans atmosfære være helt forsvunnet. Dersom Titan er 4,5 milliarder år gammel, hvor kommer så all metanen fra?
Evolusjonære astronomer håpet å finne have fulle av det, sammen med hav av etan, som skulle bli produsert ved nedbrytelsen av all metanen over milliarder av år. Istedenfor fant de at månens overflate var tørr, unntatt for noen småsjøer som kan være etan og metan som definitivt ikke var nok til å underbygge teorien om en gammel Titan.
"Titan er kanskje bare en måne, men den er den stor demonstrasjon av feilen ved evolusjonær teori," observerte Psarris.
Sekulære vitenskapsmenn var også svært sikre på at Titan ville være dekket av tusenvis av krater etter milliarder av år med asteroidenedslag. Overraskende nok viste bildene fra Cassini-Huygens etterforskningen bare 60 krater på 50% av Titans overflate. Dette er også gode nyheter for kreasjonistene. "Mangelen på krater og deres ferskhet hentyder på sterkt vis at Titans overflate er mye yngre enn de antatt 4,5 milliarder år," konkluderer Faulkner.
Energiske Enceladus
Cassini avslørte flere overraskelser på en annen av Saturns måner, Enceladus. Bilder viste en stor geysir som eksploderte på Sørpolen. "Ifølge evolusjonen er Enceladus antatt å være milliarder av år gammel. De skal ha kjølt seg ned fra dens formasjon for eon siden; den er ikke antatt å ha energi til å gjøre noe av dette," forklarer Psarris.
I tillegg er månene nær Enceladus lysere enn forventet. "Antakeligvis sprøytemaler Enceladus dem med is og snø. Evolusjon modellene sier at Enceladus er gammel, kald og død, men den er ingen av disse tingene," sier han. "Enceladus er et stort stykke bevis for et ungt solsystem . til og med et som er bare noen tusen år gammel."
Nye nyheter er gamle nyheter
De nye nyhetene om Saturn er på en måte gamle nyheter for kreasjonistiske astronomer. Cassini-Huygens oppdraget har hjulpet å motbevise antakelsen at solsystemet har utviklet seg tilfeldig (og asteroidenedslag etter asteroidenedslag) over milliarder av år. Istedenfor bekrefter informasjonen arbeidet til en Skaper for bare noen tusen år siden.
Vi vet dette allerede fordi Skaperen dokumenterte Sin egen øyenvitneberetning i 1 Mosebok 1. På dag fire skapte Han alle himmellegemene.
Oppdrag som Cassini-Huygens er fremdeles verdifulle ettersom de hjelper oss å flette sammen detaljene i Guds fine arbeid. "Cassini-Huygens funn viser mangfoldet vi finner i en skapt verden, noe som folk generelt ikke har forventet," sier Faulkner. "I tillegg tilbyr de flere spennende beviser for et nylig opphav for den nylige kreasjonisten."
Faulkner legger til at til tross for disse funnene vil evolusjonære vitenskapsmenn fortsette å forklare dem bort som avvik. Men for dem av oss som tror på Guds Ord gir Saturn oss enda en god grunn til å fryde oss over sannheten i Salme 19:2 "Himlene forteller Guds ære, hvelvingen forkynner hans henders verk."
"Saturn forteller oss ikke bare at vår Skaper er dyktig, majestetisk og mektig, men også at Han setter pris på skjønnhet," påpeker Psarris.
Salme 136:3-5 formaner oss ikke bare til å gjenkjenne Guds arbeid men "Prise Herren… ham som gjør store undergjerninger… han som gjorde himmelen med forstand – for hans miskunn varer til evig tid."
Dersom Gud ga slik underfull oppmerksomhet til detaljene i skapelsen av himmellegemene, hvor mye mer oppmerksomhet ga Han til skapelsen av menneskene i Hans bilde! Den som hang Saturn på himmelen ga også Sin egen Sønn slik at vi ikke bare kunne nyte arbeidet Hans, men ha et levende forhold med Ham.
---