April 9th 1940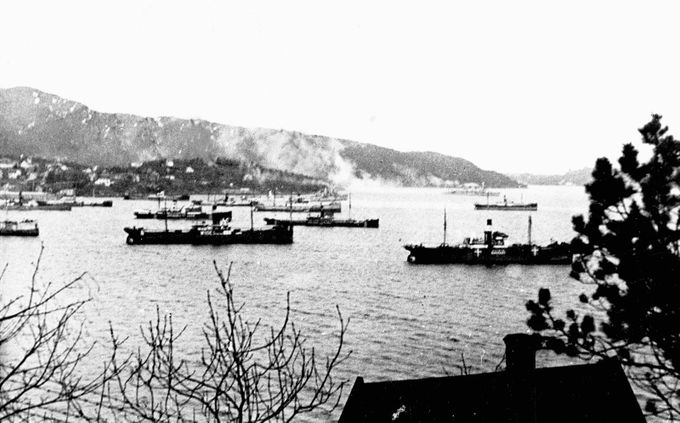 Today marks 75 years since the Germans invaded Norway at the start of World War II. The picteure above is from Bergen harobour where the cruiser "Königberg" were involved in battle against the Norwegians.
Early on the morning on the 9th of April, my grandfather was stood at Laksevåg looking out towards the sea with his binocluars.  Some people thought the British were coming for support, but my grandfather recognized with horror that the flags om the ships outside of Bergen were German. He warned his family, incluing my mother who was a young girl at this time.
The Germans cocnqered most of Norway in about 2 days (not counting the Northern Norway were the Bristish and the French were gathered in a military manouver). Life was changed to a life of hardship for many people. Jews, Christians and politicians were sent to the concentration camps, and  Germans ruled Norway for 5 years along with Norwegian Nazis.
In Psalm 127:1 we read "Except the LORD build the house, they labour in vain that build it: except the LORD keep the city, the watchman waketh but in vain." In these days when the Covid-19 is sweepign through the world, we have yet another reason to feel affraid and unsafe. In 1940 is was the Nazis.
As we look around us there are countless reasons to feel unsafe or affraid. The truth is that only the Lord can give us peace these days. John 14:27 telle us "Peace I leave with you, my peace I give unto you: not as the world giveth, give I unto you. Let not your heart be troubled, neither let it be afraid."
The only wat we can feel peace is to urrender every concern to Christ. He is the One who said: "Come unto me, all ye that labour and are heavy laden, and I will give you rest" (Matthew 11:28). When we put our worrrys on Him, we can experience His wondeerful peace.
My mother never liked to talk about World War II. There were many bad memories. Nothing can bring fear as much as a war – or perhaps the Covid-19 virus. The only way to get true, blessed peace in days liek these, is to wholly put your trust in Christ. Then He will give you of His peace.
---